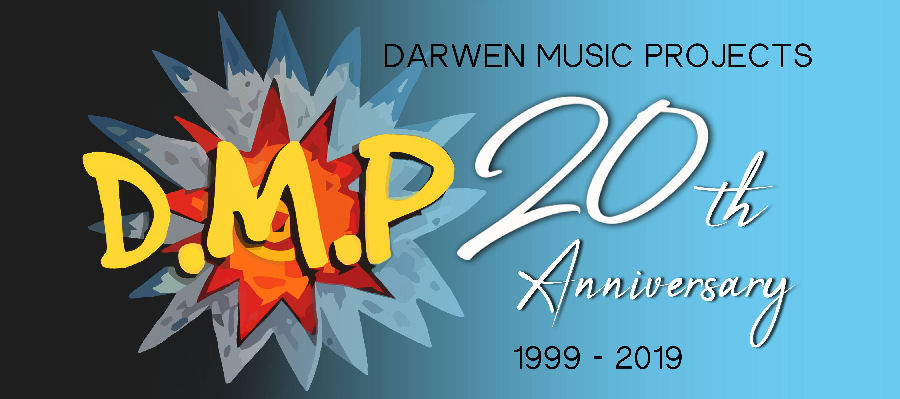 Venues and Events
Welcome to Darwen Music Projects
What do DMP do?
Darwen Music Projects organise and promote music events in and around the East Lancashire town of Darwen.
Since 2000 we have assisted in presenting the free-to-attend 'Darwen Live' festival held annually on the Sunday and Monday of the Spring Bank public holiday. We also host at least once a week live music featuring genres including Jazz, Reggae / Ska, Blues, Western / Bluegrass / TexMex, World / Folk / Roots along with Open Mic and other alternative styles at various venues.
Who Are We?
Darwen Music Projects was founded in 1999 by Terry Walsh after his involvement in planning session for an event to celebrate the millennium. Because of Terry's enthusiasm and tenacity, that event became the town's annual music festival 'Darwen Live'. In order to organise a successful festival in the town Terry recruited the services of fellow musicians and friends Steven Lindley and Gary Ward.
Gary Ward is currently at the helm of the good ship DMP with contributions past and present from Terry, Steven, Derren Lee Poole, Fred Hoyle and Benn Robinson. We're all involved in music and the arts in other areas and give our time for free to keep a vibrant seam of music running through Darwen.
We are a not-for-profit, voluntary organisation, any proceeds generated from the Jazz and Blues weekend or other events are ploughed back into our other projects in the town. If you would like further information on DMP or would like to get involved, then please contact us.
The key aim of Darwen Music Projects is to bring quality acts to Darwen that would normally only be seen in the big cities.